BUY VORTEX IMPACT® 1000
Simply put, the Impact rangefinder's combination of excellent and reliable performance at a super economical price means you no longer have an excuse to head afield without a laser rangefinder. BUY VORTEX IMPACT® 1000.
This lightweight, no-frills rangefinder is easy-to-use and features angle compensation for treestand hunters and casual range goers wanting precise horizontal distance to the target. The Impact joins all other Vortex rangefinders in the unique fact they are fully covered for life by the legendary VIP Warranty—including electronics. BUY VORTEX IMPACT® 1000
Runs on a single, long-lasting, easy-to-find, CR2 battery.
Included in the Box
Lens Cloth
Strap
Soft Carry Case
CR2 battery
Ballistic cheater card
Range Reflective (yards)
1000 yds
Range Tree (yards)
800 yds
Range Deer (yards)
500 yds
Linear Field of View
341 feet @ 1000 yds
Angular Field of View
6.5 degrees
Operating Temperature
-10 C to 55 C
Waterproof
O-ring seals prevent moisture, dust and debris from penetrating for reliable performance in all environments. BUY VORTEX IMPACT® 1000
Rugged Design
Built to handle tough situations. Compact and lightweight.
Diopter
Adjusts for differences in a user's eyes. Located on right eyepiece.
Easy-to-use Menu
Intuitive, easy-to-use menus feature a simple, clean illuminated display.
Intuitive Display
Easy-to-use menu with a simple, clean display. BUY VORTEX IMPACT® 1000
HCD
Horizontal Component Distance (HCD) mode for angle compensated ranging.
LOS
Line of Sight (LOS) mode displays actual line of sight range. BUY VORTEX IMPACT® 1000
Scan
This feature displays continual distance readings when panning across a landscape or tracking a moving animal.
Ranging Format
Range in yards or meters.
RETICLE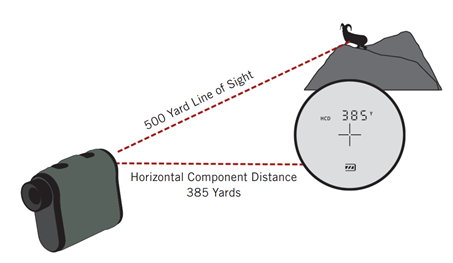 HCD CORRECTED SHOOT-TO RANGE
The Impact 1000 uses HCD (Horizontal Component Distance) angle-compensated ranging technology to give bow and rifle shooters the critical distance data needed to make accurate shots. BUY VORTEX IMPACT® 1000